Ship Recycling Market Back to Solid Ground
The ship recycling industry is essential for both the shipping and the waste recycling industries. The reason is that on one hand, it helps renew the global fleet of ships and, on the other hand, it balances the supply and demand of ships in the freight market. It recycles millions of tons of waste material and contributes to economic sustainability.
Ship recycling is affected by market fluctuations. Nowadays, because of the strong demand of steel, the scrap prices are maintained at high rates. Many analysts predict that this trend will persist as the Covid pandemic continues to affect this industry.
In addition, dry bulk and container rates continue to rise as very recyclers from these sectors are offered. Also because tankers and offshore units currently make up the bulk of the limited supply.
Ship recycling operation is widely considered as one of the most dangerous activities in the shipbuilding industry due to environmental pollution and health risks to workers.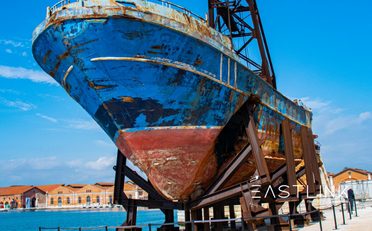 The recycling process puts enormous pressure on both the nature and human resources. Recycling leads to the discharge of large quantities of toxic waste into soil, air and water around the recycling area and the degradation of the coastal environment endangers the life of living organisms in the vicinity. In addition, the working atmosphere is prone to accidents, as the working force in shipbreaking yards works under risky conditions. Accidents and illnesses that occur during hazardous waste handling can have a long-lasting effect on workers throughout their lives.
International organizations established guidelines to improve the conditions of workers as well as the coastal environment in recycling nations.
They are meant to protect labor rights and environmental standards in ship dismantling countries and gradually raise awareness of these crucial issues.
The non-governmental recycling organizations fight to preserve the quality of life around the demolition site and those involved.
The EU takes action as well! To make the ship recycling industry greener and safer and to reduce the negative environmental and social impact of ship recycling, the EU has issued new rules and regulations.
The European Ship Recycling Regulation focuses on preventing, reducing and minimizing accidents, injuries and other negative effects on human health and the environment related to the recycling of ships.